Guatemala's Indigenous and Colonial Cultures
January 28 – February 5, 2022
Inquire about custom dates and itineraries to suit your group of family and friends.
On this tour we will explore the rich colonial heritage of Antigua and the beautiful scenery and indigenous cultures surrounding Lake Atitlan.  In Antigua, we'll explore Guatemala's rich cuisine with a sunset dinner tour encompassing three different restaurants as well as explorations of street food (safely!) and the vibrant food market.  There will also be time to leisurely stroll about, lounge by the pool, or take additional tours.   On our way from Antigua to Lake Atitlan, we'll stop for a tour of Iximché, the capital city of a Maya kingdom.  Then we'll go to Panajachel where we'll take a private boat to our hotel on the lake.   During our time on Lake Atitlan we'll see the shoreline from several boat rides, learn about Maya weaving techniques, the impact of women's weaving cooperatives on the standard of living of the indigenous Maya people, explore the work of a local NGO, and go shopping in Panajachel.  There will also be free time to relax by the lake, go ziplining, birding or volcano hiking, or take a day trip to one of the other indigenous communities in the nearby mountains.
Detailed Itinerary
Day 1: Arrive at Guatemala City's international airport to be met by your tour curator.  A one-hour van ride will take us to Hotel Casa del Parque in Antigua.  After settling in at the hotel and taking a rest by the pool, we'll take a sunset dinner tour comprising three of the most renowned Guatemalan restaurants that Antigua has to offer. Meals included:  dinner.
Day 2:  Antigua: Today, we'll get the lay of the land.  Walking through Antigua's famous cobblestone streets, amidst colorful buildings and tumbled ruins, we will tempt our taste buds with numerous Guatemalan culinary staples. You'll eat delicious Guatemalan dishes just like the locals do. While strolling through the city streets learning about Antigua's famous churches and ruins, you will have the opportunity to eat seven different foods – the portions are generous and we will keep ordering food as lo
ng as you keep eating!   And we'll also stroll through the Mercado and discuss the history of flavors and ingredients reflecting Guatemala's mix of Spanish and Mayan influence.  While wandering the market, we'll have the opportunity to try fruits unique to Guatemala, and you will be able to purchase fruits and vegetables to take back to our hotel. Meals included:  breakfast & lunch.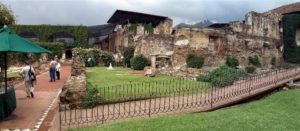 Day 3:  Antigua: On our second full day in Antigua, we'll visit the ruined Iglesia y Convento de Santo Domingo. The archaeological zone includes six museums, with rich collections. Admission includes:  the Museo de la Platería, with silverwork masterpieces including incense burners, candelabras and crowns; the Museo Colonial, with canvases and wooden sculpture on religious themes from the 16th to 18th centuries; the Museo Arqueológico, with ceramic and stone objects from the Maya Classic period; the cleverly curated Museo de Arte Precolombino y Vidrio Moderno, with Maya sculpture and ceramics shown as art pieces alongside glass works by modern artists; the Museo de Artes y Artesanías Populares de Sacatepéquez, with exhibits on traditional handicrafts from the Antigua region; and the Museo de la Farmacia, a restored version of a 19th-century apothecary's shop from Guatemala City.   Meals included:  breakfast.
Day 4:  Antigua:  Today you're on your own.  You can meander around the city, lounge by the hotel pool, try a flight of beers at Antigua Brewing Company, hike Volcan Pacaya, or fly to famous Tikal for the day.  Your tour curator can help with ideas and arrangements.  Meals included:  breakfast.
Day 5:  After breakfast at our Antigua hotel, we'll head to Iximché for a tour.  Iximché was the capital of the Late Post-classic Kaqchikel Maya kingdom from 1470 until its abandonment in 1524. The architecture of the site included a number of pyramid-temples, palaces and two Mesoamerican ballcourts.  Excavators uncovered the poorly preserved remains of painted murals on some of the buildings and ample evidence of human sacrifice. The ruins of Iximché were declared a Guatemalan National Monument in the 1960s.  After our tour, we'll proceed to Panajachel and a private boat transfer to our hotel, Casa del Mundo, on the shore of Lake Atitlan.  Meals included:  breakfast.
Day 6:   Lake Atitlan:  Today's Backstrap Weaving Demonstration by the Flor Juanera Cooperative will begin with a boat ride to the Tz'utujil Maya village of San Juan,
along the shore of the lake.  The Flor Juanera Cooperative, or Xe' Kuku' Aab'aj in Tz'utujil, came together in 1992 out of a need for work and to provide a better life for the children of San Juan. The group was founded with two goals:  1) provide for their families and 2) preserve the Maya Tz'utujil culture.  At the village, we will visit a natural dye and medicinal plant garden, observe a natural dyeing demonstration, help wrap yarn into balls, stretch threads around the warping board to create the design and observe ikat tying and liso backstrap weaving demonstrations.  Meals included:  breakfast & lunch.
Day 7:   Lake Atitlan:  We'll spend the morning in Panajachel with time to shop at the Maya Traditions Foundation where wholesale pricing is available to the public when you shop directly from their showroom.  The staff is fluent in English and Spanish and will be happy to assist you with purchasing their Fair Trade products.  As a nonprofit social enterprise, Maya Traditions is dedicated to facilitating access to national and international markets for Maya backstrap weaver artisans and their families in the highlands of Guatemala.  Following a Fair Trade model, they continually seek to support artisans, their families, and their communities through social programs that work to build capacity, preserve local cultures, and motivate indigenous women to strengthen their entrepreneurial ecosystems.  There will also be time to visit the shops along Panajachel's main street and have lunch in town before returning to the hotel.  Panajachel. Meals included:  breakfast.
Day 8: Lake Atitlan:  There's nothing scheduled today.  You can relax on one of the hotel balconies, immersing yourself in the scenery and watching the public transportation boats go by every hour.  Or you can hike a volcano, go zip lining, visit another village or two on the lake. Your tour curator can help with ideas and arrangements.  Meals included:  breakfast.  
Day 9:  Transfer by private boat and van to Guatemala City airport.  Meals included:  breakfast.
  Activity Level: Moderate.  Activities are generally not very strenuous, however, we expect that guests can enjoy two hours or more of walking, are sure-footed on cobbled surfaces, and walk up and down stairs without assistance.  In rural and small town settings, unpaved roads and pathways will be common with some short sections of rough trail which we expect that guests can traverse with no more than a companion's hand to steady them.  Historic city centers are frequently more accessible by foot than vehicle.  Due to the structure of some buildings, facilities for the disabled may be limited.
Cost:  $1,725 per person, double occupancy, $225 single supplement.  Includes:
Airport transfers for guests arriving and departing at the suggested times.
Van and boat transfers within Guatemala.
Meals: 8 breakfasts, 2 lunches, 1 dinner.  Other meals will be on your own individually or as a group.
Tours (including entry fees) as listed.
Minimum travelers:  5.  Maximum travelers:  9.
Questions?
Email me at badams@badamstravel.com and I'll respond quickly.
A note about travel in the time of CoVID-19
Here at BADams Travel we are hopeful that it will become reasonably safe to travel again in 2021.  We are working to make our 2021 itineraries as safe as possible:  our lodging partners are augmenting their cleaning and disinfecting protocols; most of our meals will be in open air settings, a significant portion of our touring time is spent in the outdoors, the indoor spaces that we will go into are generally large and uncrowded, and we'll be using vehicles with operable windows.  We're keeping track of the situation in our destinations and looking at additional steps we can take to improve everyone's safety.