Explore the island of São Miguel, beyond the five sites everyone goes to.
São Miguel, the Green Island
Mother Nature has created nine islands full of natural beauty, ready to be explored, in the blue immensity of the Atlantic Ocean: The Azores! Join us for this ten-day exploration of São Miguel, the Green Island.
Reserve Now!
May 4 – 13, 2023

September 21 – 30, 2023
Inquire about custom dates and itineraries to suit your group of family and friends.
São Miguel, the largest island of the Azores archipelago, will seduce you with the beauty of the Sete Cidades and Fogo Lagoons. The geysers, thermal waters, and volcanic lakes will remind you that we live on the crust of a molten ball. And the tasty Cozido das Furnas slowly cooked inside the earth will remind you of the bounty of the planet.  We'll spend three days in the capital of Ponta Delgada exploring the city and nearby.  Then shift to Povoacoa and Furnas to spend several days discovering the eastern end of the island and experienceing small town life.
Keep in mind that our itinerary is dependent on the weather.  Azoreans like to say that you can experience all four seasons in one day.  So, if it dawns clear and sunny, we may switch our activities so that we can go to sites on that day where we need a clear view.  We will attempt to see everything listed below, just perhaps in a different order.
Day 1
Arrive in Ponta Delgada
Take the red eye out of Boston the evening before and arrive in Ponta Delgada by 6:30 am.  Or an early morning flight from Lisbon and arrive by 10:00 am.  A short taxi ride takes you to the Hotel Talisman where you can check in, have breakfast, shower, and take a nap.  When you're refreshed, we'll take a  walking tour of the historic city center with Hungry Whales and experience some of the city's best eateries.  Besides tasting amazing food and drinks, you will visit some of the main city sights, and learn about local culture and lifestyle as we walk through the cobble stone streets.  We'll also stop at Posto de Turismo de Ponta Delgada so that you can gather information about other sites you may wish to see.  Meals included: breakfast & lunch.  We are happy to assist you in making arrangements if you wish to arrive in Ponta Delgada a day or two earlier.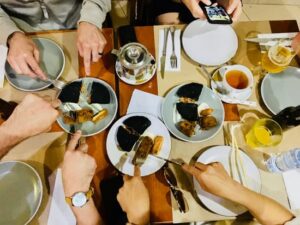 Today, your tour leader will take you on a Hands-on Azores Crafts walking tour in Ponta Delgada.  The entire tour is about 2.5 kilometers; how long it will take will depend on how much time we spend at each stop.  If you prefer, you can do it as a self-guided tour at your own pace.  Stops will include artisans who work in embroidery, fashion, paper, ceramics, weaving, musical instruments, wood, and jewelry.  We'll likely stop for a snack at some point during or after the tour.    Meals included: breakfast.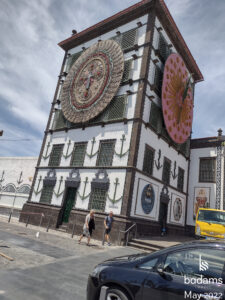 There are no scheduled activities today.  You're free to explore more deeply those areas of the city center that you've walked in the previous two days or perhaps you want to scout past the center of the city.  Or you could take an optional whale and dolphin watching tour or check out the Gruta do Carvão lava tubes.  Meals included: breakfast.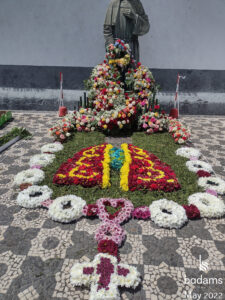 Day 4
Sete Cidades/Povoacao
After checking out of our hotel, we'll tour the western end of São Miguel, including Sete Cidades, enjoying amazing views of the island  including the famous King's View and take a hiking tour to the Miradouro da Boca do Inferno.  After a stop for lunch in a small town by the lake, the drive continues to the west coast of the island and the beautiful rocks of Mosteiros.  And then we'll drive along the northwest coast as we continue to Povoacao and check into the Hotel do Mar on the waterfront.  Restaurante Jardim is recommended for dinner.  Meals included: breakfast.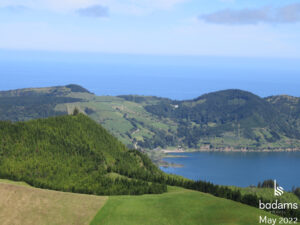 There are no scheduled activities today.  You'll have the day to walk around Povoacao, the waterfront, town square, hike the trails to the cliffside homes, sit in the town square and watch the locals go about their lives, etc.  Meals included: breakfast.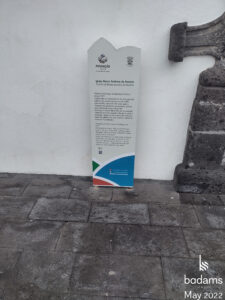 Today's adventure will be a leisurely drive along the northeast coast.  We'll stop at several miradouros, learn about the importance of water mills in São Miguel's history, view a couple of waterfalls, and check out the studios of two or three artisans.  We'll arrive in Furnas in mid to late afternoon and check into the sublime Terra Nostra Garden Hotel.  Drop off your bags in your rooms and then we'll take a walking tour through town to the Caldeiras,  the Casa Invertida, and the Furnas Cascade.  Then a stop in the Terra Nostra Garden to show you the thermal pool and jacuzzis, highly recommended for a post-dinner soak!   Meals included: breakfast.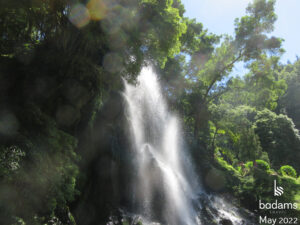 After the Hotel's multi-course breakfast, we'll spend the day exploring Furnas including a a short drive to the Miradouro do Lombo dos Milhos and the Lagoa do Furnas.  Here, you can choose to explore the grounds of the Jardim Jose do Canto, or, take a five mile walk around the Lagoa (level ground) to the Fumarolas where the famous Cozido das Furnas is cooked.  (Or you can ride over in the van.)  At the Fumarolas you can see the mounds where the various restaurants and hotels are cooking their cozidos.  If our timing is good, we'll get to see one or two huge pots lifted out of the ground.  In the evening, there's an option to sample cozido at Tony's Restuarant.  Meals included: breakfast.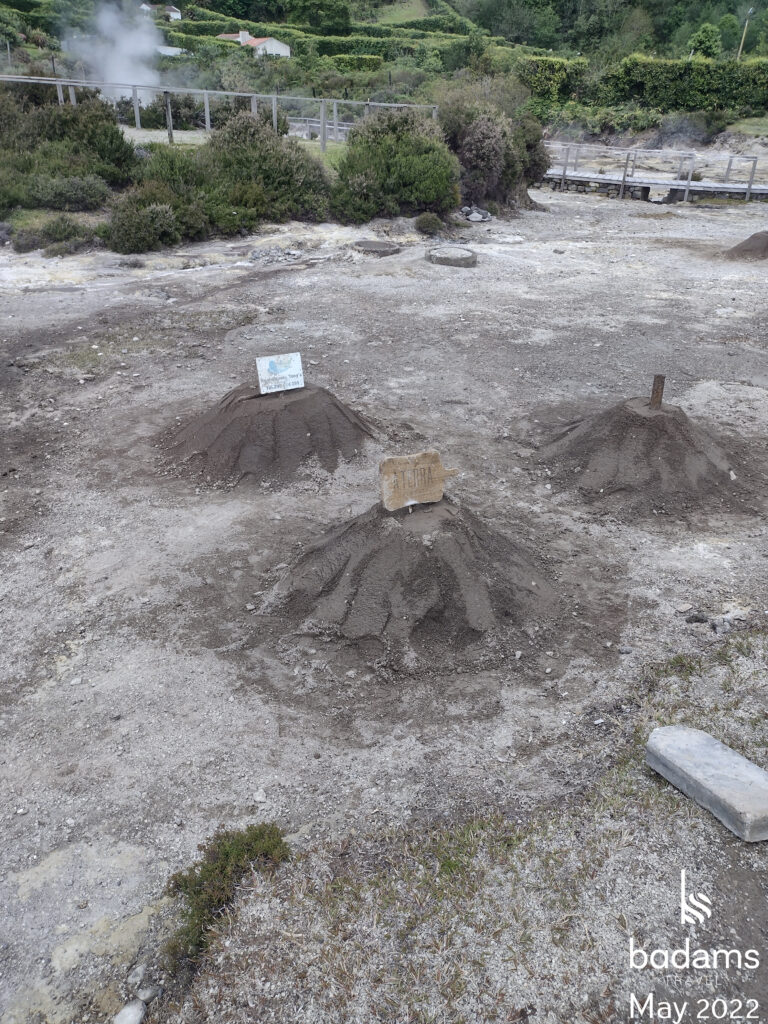 Today's explorations will include a visit the Gorreana Tea Plantation, the Cintrão lighthouse, and Ceramica Micaelense.   Meals included: breakfast.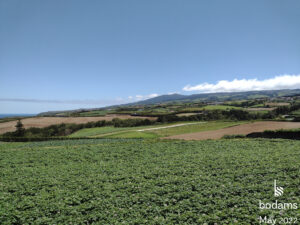 There are no scheduled activities today.  It's a great opportunity to relax in the thermal pool and jacuzzis in the garden or people watch from the terrace of the hotel's bar.  Or you can explore further in Furnas:  the churches, a cheese board at Queijaria Furnense, the Casa Invertida, the Cascata e Aquário das Furnas, or the five thermal pools at the Poça da Dona Beija.  Meals included: breakfast.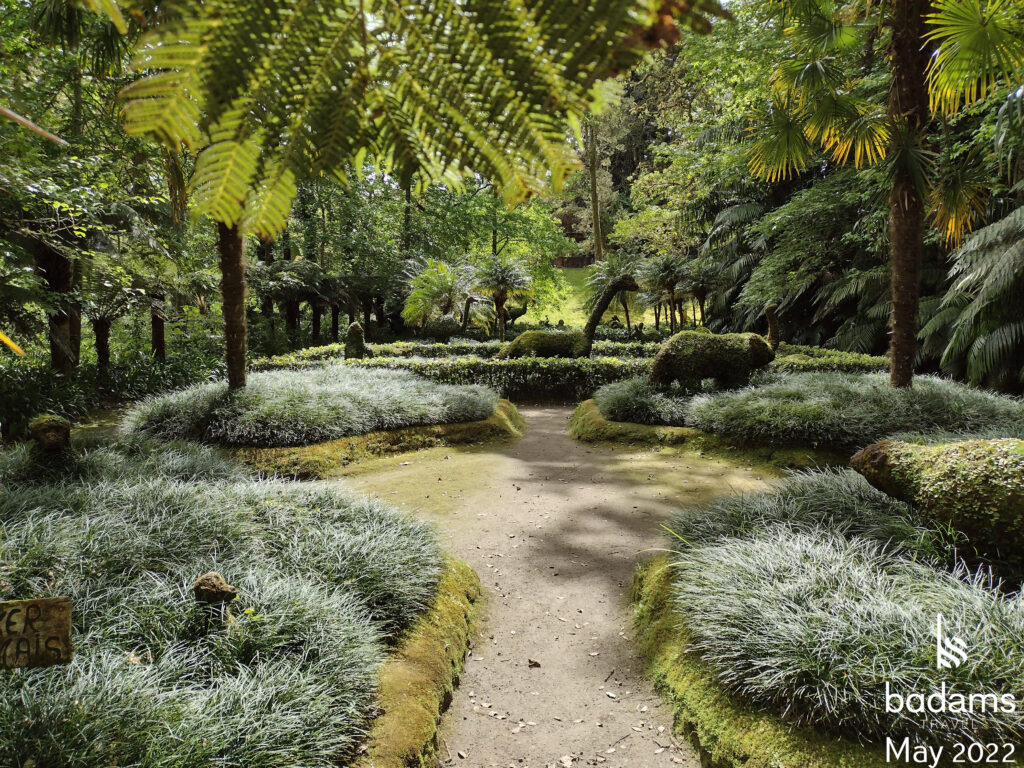 The group will transfer to the airport by way of Lagoa do Fogo and one of São Miguel's pineapple plantations arriving by 3:00 pm for check in for 6:00 pm flights.  If you are taking an earlier flight, the hotel will be happy to assist you in hiring a cab to the airport for about.  Meals included: breakfast.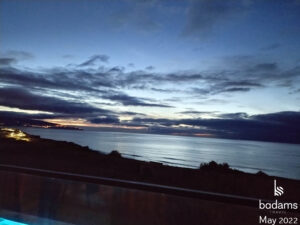 Activities are generally not very strenuous; however, we expect guests to enjoy two hours or more of walking, be sure-footed on cobbled surfaces, and walk up and down stairs without assistance. In rural and small-town settings, unpaved roads and pathways will be common with some short sections of rough trail, which we expect that guests can traverse with no more than a companion's hand to steady them. Historic city centers are frequently more accessible by foot than a vehicle, and sometimes your motorcoach can't drop you off at the hotel and site entrances. Due to the structure of some buildings, facilities for the disabled may be limited.
Azores
São Miguel, the Green Island
Price per person/double occupancy. Single supplement of $475

Airport transfers for guests departing at the suggested time

Van ransfers within the Azores

Meals: 10 breakfasts, 1 lunch

Other meals will be on your own individually or as a group

Tours (including entry fees) as listed

Minimum travelers: 4

Maximum travelers: 7
We are working to make our itineraries as safe as possible: we are only traveling to countries with high vaccination rates and aggressive public health protocols, our lodging partners are augmenting their cleaning and disinfecting protocols; many of our meals will be in open-air settings, a significant portion of our touring time is spent in the outdoors, and the indoor spaces that we will go into are generally large and uncrowded.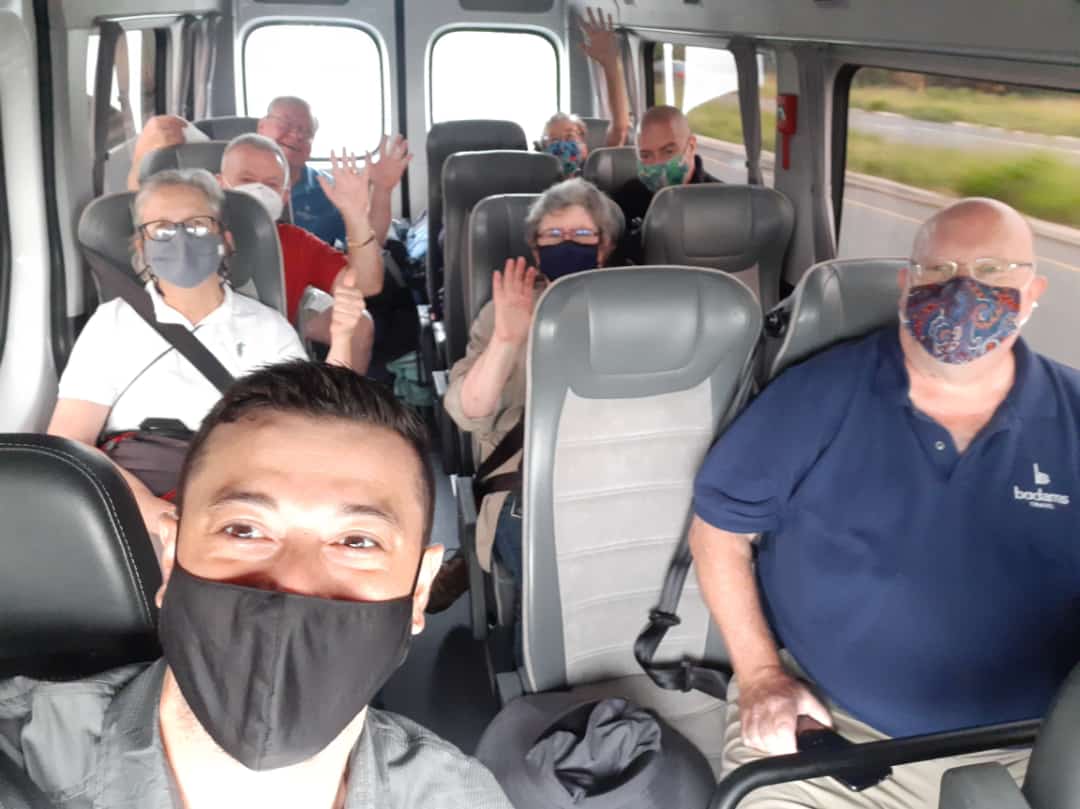 This Tour's Local Partners