The Azores:  Jewels of the Atlantic
May 19 – 29, 2022
Inquire about custom dates and itineraries to suit your group of family and friends.
Mother Nature has created nine islands full of natural beauty, ready to be explored, in the blue immensity of the Atlantic Ocean: the Azores.   São Miguel, the largest island and our starting point, will seduce you with the beauty of the Sete Cidades and Fogo Lagoons.  The geysers, thermal waters, and volcanic lakes will remind you that we live on the crust of a molten ball.   And the tasty Cozido das Furnas slowly cooked inside the earth will remind you of the bounty of the planet.   On the island of Flores, the beauty of the natural waterfalls and lakes carved out by volcanoes is astounding.  We'll be staying in a 17th century village that was abandoned as its inhabitants migrated to the U.S. and has been restored as a unique lodging in an breathtaking setting.   We'll also visit the tiny island of Corvo with just 430 inhabitants.  
Detailed Itinerary
Day 1: Depart Boston's Logan Airport on Azores Airlines at 9:20 pm flying direct to Ponta Delgada.   Meals included:  None. 
Day 2: Arrive in Ponta Delgada at 6:00 am.  After customs and immigration, we'll proceed to Ver de Mar Hotel, in the small town of Ribeira Grande on Sao Miguel's north coast.  We'll drop off our bags and get breakfast.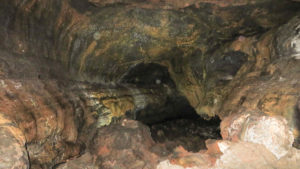 After a few hours to rest or explore the grounds, we'll venture into Ponta Delgada for a walking food tour and then the Gruta do Carvão (Grotto of Coal) an ancient lava tube.  Meals included:  breakfast & dinner.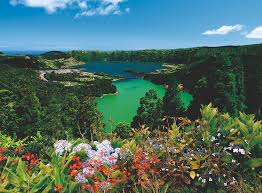 Day 3:  We'll  take in the western end of Sao Miguiel, including Sete Cidades, enjoying amazing views of the island along the road including a stop at the famous King's View.  After a stop for lunch in  a small town by the lake, the drive continues to the west coast of the island and the beautiful rocks of Mosteiros.   Meals included:  breakfast.  
Day 4: Today we start with a visit to Fogo Lake, the highest and most untouched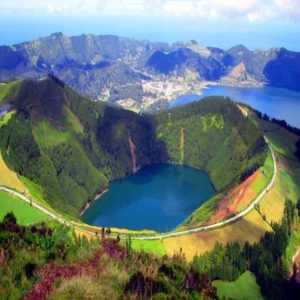 of the large lakes of the Azores. Next is Caldeira Velha, a natural monument featuring lush vegetation and thermal activity.   Our last stop today is a visit to the pineapple greenhouses, where we'll learn the unique techniques used in growing this fruit that's important to the Azores.  Meals included:  breakfast.  

Day 5:   Today we'll fly to Flores and check in to our guesthouse at Aldeia da Cuada.    Aldeia da Cuada was abandoned in the 1960s by its inhabitants who emigrated mainly to America and has been rebuilt over time by Teotónia and Carlos Silva  to create a unique lodging opportunity.  They've embraced this project of a lifetime and with determination established the link between the past and the present recovering stone houses maintaining the rural style while adapting them to the requirements for a dream vacation.  Meals included:  breakfast.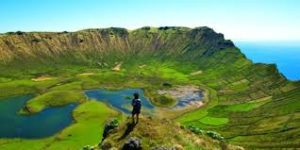 Day 6:  In the morning, we take a boat to Corvo, the smallest island of the Azores.  During the trip we're likely to see dolphins but the giant sperm whales are a rarer spotting.  Whales appear less frequently, but when they do so their beauty and sturdiness are unequaled. At Corvo, we'll go to the Caldeirão with a local guide and there see a dazzling landscape.  Corvo is know for its isolation, quiet, and the peace that is conveyed by the Caldeirão. After a walk through the inside of the crater we'll return to Flores.   Meals included:  breakfast.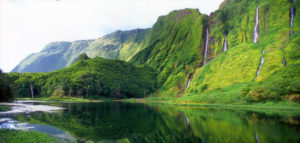 Day 7: Today we explore Flores Island.  We pass through Fazenda de Santa Cruz, Cedros and Ponta Ruiva.  In these villages we find some of the most beautiful viewpoints of the island.  Then we head towards the center of the island:  the Branca and Seca Lakes.  After a stop for lunch, we'll see the fantastic waterfalls of the island, first with Poço do Bacalhau and then with the walk to Poço da Ribeira do Ferreiro.  And, of course, we'll finish by visiting the huge basalt columns of Rocha dos Bordões.  Meals included:  breakfast.  
Day 8: Free day for relaxing, hiking, or additional touring.  Flores Island currently has four marked and approved trails. These ancient footpaths allow you to discover some of the landscapes and most interesting places on the island.  Meals included:  breakfast.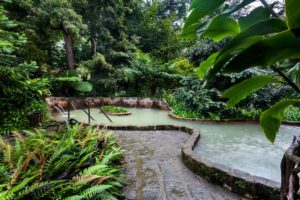 Day 9:  Return to Sao Miguel in the afternoon.  Check in to Terra Nostra Garden Hotel.  Relax in the thermal pools.  Meals included:  breakfast.  
Day 10:   On our last full day in the Azores, we'll explore the wonders of Sao Miguel's Furnas Valley.  We'll visit the island's famed ceramic factories, take photos at Caloura, Vila Franca Do Campo and Furnas.  We'll see Furnas lake and the surrounding hot springs and indulge in a traditional Sao Miguel lunch of Cozido das Furnas, a rich stew cooked by thermal vents underground.  And check out the the tea plantation and factory.  Meals included:  breakfast & lunch.     Day 11:  Depart for Boston.  Meals included:  breakfast.     Activity Level: Moderate.  Activities are generally not very strenuous, however, we expect that guests can enjoy two hours or more of walking, are sure-footed on cobbled surfaces, and walk up and down stairs without assistance.  In rural and small town settings, unpaved roads and pathways will be common with some short sections of rough trail which we expect that guests can traverse with no more than a companion's hand to steady them.  Historic city centers are frequently more accessible by foot than vehicle, and sometimes it is not possible for your motor coach to drop you off at the hotel and site entrances.  Due to the structure of some buildings, facilities for the disabled may be limited.   Cost:  $1,825 per person, double occupancy, $275 single supplement.  Includes:
Airport transfers for guests arriving and departing during the suggested times.
Transfers (plane and van) within the Azores
Meals: 10 breakfasts, 1 lunch, 1 dinner.  Other meals will be on your own individually or as a group.
Tours (including entry fees) as listed.
Minimum travelers:  5.  Maximum travelers:  7.  
Questions?
Email me at badams@badamstravel.com and I'll respond quickly.  
Ready to reserve your spot on this great trip?
Just fill out the reservation form to get started: http://badamstravel.com/244-2/.    
A note about travel in the time of CoVID-19
We are working to make our itineraries as safe as possible:  our lodging partners are augmenting their cleaning and disinfecting protocols; many of our meals will be in open air settings, a significant portion of our touring time is spent in the outdoors, the indoor spaces that we will go into are generally large and uncrowded, and we'll be using vehicles with operable windows.