Costa Rica: The Caribbean Vibe
September 9 – 18, 2021
This tour will focus on Costa Rica's southern Caribbean coast and the area around Turrialba.  We'll take a scenic drive through the fertile farmlands on the slopes of the Irazú Volcano, we'll visit the Guayabo National Monument, The Tropical Agricultural Research and Higher Education Center, and the Orosi Valley. 
Then, we'll continue on to Cahuita on the coast.   You'll spend four nights on the coast.  We'll take advantage of our timing and join the Ticos in celebrating their independence day.  During your stay you'll spend some time on the Bribri Indigenous Reserve and see how they cultivate cacao.  You'll visit a wild animal rescue; hopefully you'll see sloths and a variety of creatures. You'll also spend time visiting the Gandoca Manzanilla reserve by boat and on foot.  There may also be the option of a nighttime walking tour on the beach to look for turtles laying their eggs.  
Our last night will be in charming, colonial Alajuela City, near the San Jose International Airport.
Detailed Itinerary
Day 1: Arrive at San Jose's international airport to be met by your tour curator and driver.  Drive to Turrialba and check in to our hotel.  Meals included:  dinner.  Travelers may opt to arrive in San Jose the day before in which case BADams Travel will assist you if you wish in arranging for a hotel room at your own expense.
Day 2: First thing in the morning, we'll visit the Turrialba Farmers Market to see the bounty that this little a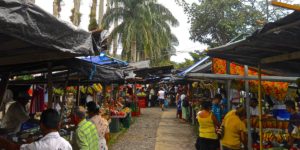 gricultural village yields, and better yet, taste it. Local farmers bring their weekly harvest to town and line up to sell to the public. Prices are low and quality is the highest. Many restaurants and families alike purchase the week's vegetables and fruits from these vendors.  Then we'll have lunch at the Tropical Agricultural Research and Higher Education Center and then spend the afternoon exploring the grounds and learning about the center's work.  Meals included:  breakfast.
Day 3:  We'll take a scenic drive along the slopes of the Irazú Volcano through fertile farmlands.  You'll have some time to check out th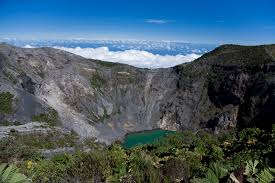 e volcano's craters and the view.  After a stop for lunch we're off to the Guayabo National Monument, situated on the lush slope of the Turrialba Volcano.  One of the largest and most important archeological finds in Costa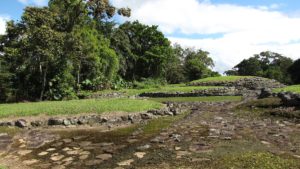 Rica, Guayabo is believed to have been the residence of approximately 10,000 people about 3,000 years ago. During your visit, you can explore the city's infrastructure and discover petroglyphs and tombs that were discovered by archeologists in 1968. The priceless artifacts that were found during excavation have found a home in the National Museum located in San Jose. Meals included:  breakfast.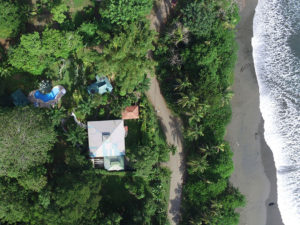 Day 4:  We'll spend today exploring the beautiful Orosi Valley.  Meals included:  breakfast.
Day 5:  After breakfast we'll had to Cahuita on Costa Rica's southern Caribbean coast.  On the way, we'll stop for lunch in Limon.  After we check in to Playa Negra Guesthouse, you have the remainder of the afternoon to lounge by the pool or on the beach in Cahuita.  Meals included:  breakfast.
Day 6:   Do you love chocolate? Costa Rica has some of the most wonderful chocolate, made by the country's indigenous Bribri tribe.  We'll visit the tribe and learn how food is grown by the Bribri, go on a hike through a cacao plantation and see a demonstration of the cacao paste process using tools that date back to pre-Columbian times.  Located in the stunning foothills of the Cordillera de Talamanca, the Bribri Indigenous Reserve is one of the most distinct cultural communities in Costa Rica.  Have you ever been to a chocolate factory? It's kind of like that,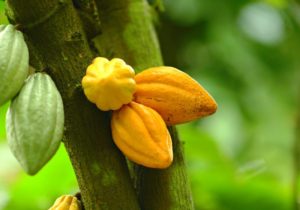 but here, you'll find it's a much more culturally intense experience to watch the women of the Bribri tribe create organic chocolate. Whether you're in the mood to indulge your sweet tooth or you're looking for a deeper connection to the people of Costa Rica, this tour will do both.  We'll get back to the guesthouse in time for lounging and cocktails by the pool.  And to watch the faroles (lantern) parade in Cahuita!  Meals included:  breakfast & lunch.
Day 7:   You have the morning to relax on the beach, by the pool, or take a stroll into Cahuita and watch the Independence Day parade.  After lunch, we're taking a private tour of the Jaguar Rescue Foundation. It's a tour that is unlike any animal experience you've had before. The tour will bring you in direct
contact with monkeys, wild cats, sloths, anteaters and more. You'll see monkeys in the trees, birds flying free, and the most venomous snakes in Costa Rica, housed in terrariums imitating their natural habitat. Guided by professionals who have extensive training with the animals, you will see things you wouldn't even have known to look for, and learn things you could never imagine.  Meals included:  breakfast.
Day 8: After breakfast, we're going to the Gandoca Manzanillo Wildlife Refuge, just a few kilometers north of the Panama border.  This refuge protects some of the region's most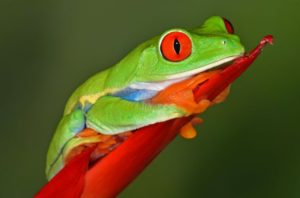 endangered flora and fauna.  Encompassing several rare habitats like a lowland rainforest, a wetland and a mangrove swamp, the refuge also safeguards the only orey and jolillo palm swamps in Costa Rica. The is important ecologically because it contains the only intact mangrove swamp in the Atlantic and the primary lowland small rainforest found here is the only one of its kind in the region.  The refuge is also the nesting area for several species of turtles, manatees, crocodiles, caimans, tarpons and dolphins.  Meals included:  breakfast.
Day 9:  Transfer to Alajuela City.  Meals included:  breakfast.
Day 10: Fly home.   Meals included:  breakfast.
Activity Level: Moderate.  Activities are generally not very strenuous, however, we expect that guests can enjoy two hours or more of walking, are sure-footed on cobbled surfaces, and walk up and down stairs without assistance.  In rural and small town settings, unpaved roads and pathways will be common with some short sections of rough trail which we expect that guests can traverse with no more than a companion's hand to steady them.  Historic city centers are frequently more accessible by foot than vehicle, and sometimes it is not possible for your motor coach to drop you off at the hotel and site entrances.  Due to the structure of some buildings, facilities for the disabled may be limited.
Travel during CoVID-19.  Here at BADams Travel we are hopeful that it will become reasonably safe to travel again in 2021.   We are working to make our 2021 itineraries as safe as possible: 
our lodging partners are augmenting their cleaning and disinfecting protocols;
our meals will be in open air settings,
nearly all of our touring time is spent in the outdoors, the few indoor spaces that we will go into will be large and uncrowded, and
we'll be using a van with operable windows. 
Note that for this trip, you will be required to:
provide BADams Travel and Costa Rican immigration officials with 1) proof of vaccination, 2) a negative CoVID test conducted no more than three days prior to arrival in San Jose, and 3) proof that you have insurance that will cover your care in Costa Rica if you become sick;
observe Costa Rican masking and social distancing requirements; and
additional masking and social distancing requirements from your tour curator in order to further protect your co-travelers and our Costa Rican driver, guides, hospitality workers, etc.
Cost:  $1,925 per person, double occupancy, $275 single supplement.  Includes:
Airport transfers for guests arriving and departing during the suggested times.
Transfers within Costa Rica.
Meals: 9 breakfasts, 1 lunch, 1 dinner.  Other meals will be on your own individually or as a group.
Tours (including entry fees) as listed.
  Minimum travelers:  5.  Maximum travelers:  9.
Questions?
Email me at badams@badamstravel.com and I'll respond quickly.
Ready to reserve your spot on this great trip?
Just fill out the reservation form to get started: http://badamstravel.com/244-2/.