January 23 – February 1, 2020
This tour will take you to some of the treasures in the south of Costa Rica that are much less visited than the areas to the north and west of San Jose.  You'll see an amazing selection of Costa Rica's biodiversity, rub shoulders with scientists doing vital research on tropical ecology, learn about one of Costa Rica's indigenous peoples, ponder the mysterious stone spheres, explore mangrove wetlands by boat, and hike in the Corcovado National Park.
We'll start with a couple of nights in San Gerardo de Dota in the Talamanca Mountains — one of my favorite places in Costa Rica.  We'll look for the resplendent quetzal, hike in the cloud forest, and eat amazing meals at Miriam's Restaurant and Pizzeria Joannes Paulus II.
From the mountains, we'll head to the Las Cruces Biological Research Station near the Panama border.  We'll be staying for three nights at the station, eating our meals with the researchers, exploring the Wilson Botanical Garden, and learning about tropical forest fragmentation and reforestation from the scientists. 
From Las Cruces, we'll go to Sierpe, on the Pacific Coast.  While there we'll explore the mangrove wetlands by boat and hike in the Corcovado National Park which is estimated to contain 3% of the biodiversity of the Western Hemisphere.
We'll spend our last night in San Jose after a drive up the coast from Sierpe including a stop at the Crocodile Bridge.  After breakfast at the hotel, you'll head to the airport for your flight home.  Unless . . . you're staying in Costa Rica to join BADams Travel's Caribbean trip!
Detailed Itinerary
Day 1: Arrive at San Jose's international airport by 12:45 pm to be met by your tour curator and driver.  Transfer to San Gerardo de Dota in the Talamanca Mountains and check into our rustic mountain cabins. Meals included:  dinner.  Travelers may opt to arrive in San Jose the day before in which case BADams Travel will assist you if you wish in arranging for a hotel room at your own expense.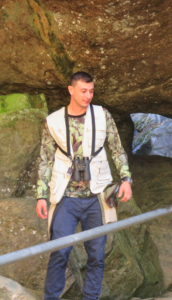 Day 2: Before breakfast, we'll  look for the rare resplendent quetzal in the Aguacatillo trees near Miriam's Quetzals Restaurant.  Once we've had breakfast there will be several options for additional birdwatching and hiking during the day with our naturalist guide, Fabian Monge.  At San Gerardo, we are in the midst of Los Quetzales National Park and its abundance of ecological resources. It sits along the Talamanca Mountain range and has an elevation of 5-7,000 feet.  It is one of Costa Rica's famous cloud forests. Within the Park, researchers have identified three different types of rainforests and 14 distinct ecological zones each with their unique qualities. Meals included:  breakfast.
Day 3: We have the morning for some additional hiking and bird watching in the Park. After lunch at Miriam's, we'll head to Las Cruces Biological Research Station near the Panamanian border.  We'll make a couple of stops along the way; first, for ice cream in San Isidro, and second,  at the Villa Palacios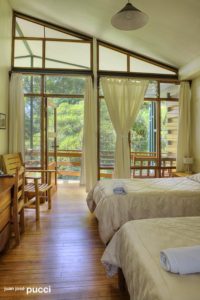 Indigenous Community Museum built in the architectural style of the Guaymi culture.  The Museum is a center for community activities dedicated to revitalizing traditions including language, dances and celebrations.  Within the Museum, traditional Guaymi crafts are made and sold.  We'll arrive at Las Cruces late in the afternoon, settle into our cabins, and have dinner in the dining hall with the scientists and researchers in residence.    Meals included:  breakfast & dinner.
Day 4: First we'll get an orientation tour of the Research Station.  In the afternoon, you'll have a chance to learn about forest fragmentation both in the classroom and on a field trip.  There will also be time to go on the trails with our guide for those who are so inclined.  Meals included:  breakfast, lunch, & dinner.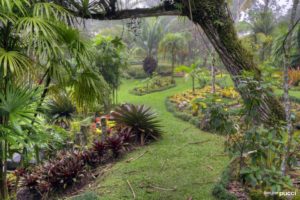 Day 5: Today's discussion and field trip will focus on tropical reforestation.  Or, if you want to experience an even more remote area of study, join our guide for a field trip to Las Alturas which forms part of the enormous La Amistad Biosphere Reserve and sits at a higher elevation than Las Cruces.   Meals included:  breakfast, lunch, & dinner.
Day 6: In the morning, you'll have time for pre-breakfast birdwatching, wandering around the botanical garden, or hiking along the trails.  We'll leave Las Cruces after lunch and head to Sierpe.  On the way, we'll stop at the Finca 6 Archeological Site, where we will learn about the mysterious pre-Columbian spheres created by the Diquís civilization between 30
0 BC and 1500 AD.  The onsite museum screens a terrific video on what is currently known about the spheres' significance and purpose.  Meals included:  breakfast & lunch.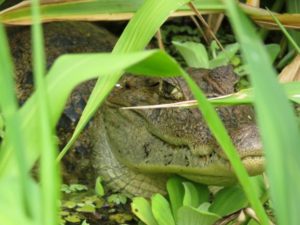 Day 7: Today, you'll take a comfortable boat ride through the channels and waterways of a mangrove ecosystem.  With a bit of luck, you'll spot a great variety of wildlife; toucans, parrots, herons, egrets, jacanas, snakes, crocodiles, fruit bats, white-faced capuchin, squirrel and howler monkeys. Meals included:  breakfast.
Day 8: You'll get an early start today and head by boat to the Corcovado National Park.  The Park is the largest primary forest on Costa Rica's Pacific coastline and is famous for containing 3% of the biodiversity of the Western Hemisphere.  The area holds thousands of species of flora and fauna, many unique to the area and others which have disappeared from other regions, or are in danger of extinction.  Approximately 6,000 insects (including the 123 different butterflies discovered so far), 500 trees (a fourth of all the tree species that exist in Costa Rica), 367 birds, 140 mammals, 117 amphibian and reptiles, and 40 freshwater fish species live here in coexistence..  Meals included:  breakfast.
Day 9: After breakfast, we'll head to San Jose,  making stops at the Crocodile Bridge and for lunch.  We'll get to our hotel around mid-afternoon.  Your trip curator will be happy to share suggestions of sites to see, a museum to visit, or the possibility of attending a cultural performance in the center of this vibrant city.  Or, perhaps you just want to relax and contemplate all that you have seen and experienced.     Meals included:  breakfast.
Day 10: San Jose.  Transfer by cab from the hotel to airport for flights home.  Meals included:  breakfast at the hotel.  
Activity Level: Moderate.  Activities are generally not very strenuous, however, we expect that guests can enjoy two hours or more of walking, are sure-footed on cobbled surfaces, and walk up and down stairs without assistance.  In rural and small town settings, unpaved roads and pathways will be common with some short sections of rough trail which we expect that guests can traverse with no more than a companion's hand to steady them.  Historic city centers are frequently more accessible by foot than vehicle, and sometimes it is not possible for your motor coach to drop you off at the hotel and site entrances.  Due to the structure of some buildings, facilities for the disabled may be limited.
Cost:  $1,925 per person, double occupancy, $275 single supplement.  Includes:
Airport transfers for guests arriving and departing during the suggested times.
Transfers within Costa Rica.
Meals: 9 breakfasts, 3 lunches, 4 dinners.  Other meals will be on your own individually or as a group.
Tours (including entry fees) as listed.
Minimum travelers:  5.  Maximum travelers:  9.  
Questions?
Email me at badams@badamstravel.com and I'll respond quickly.  
Ready to reserve your spot on this great trip?
Just fill out the reservation form to get started: http://badamstravel.com/244-2/.